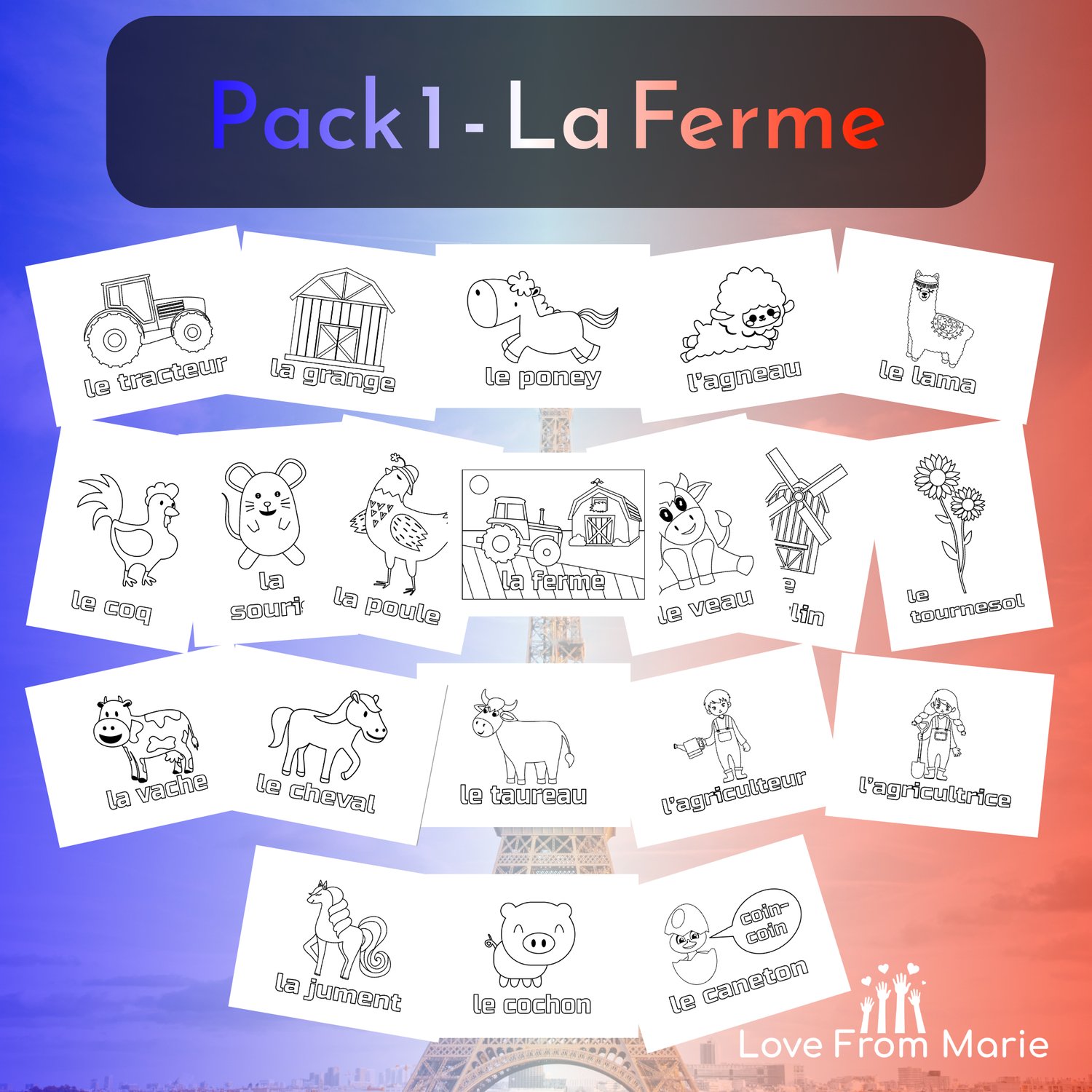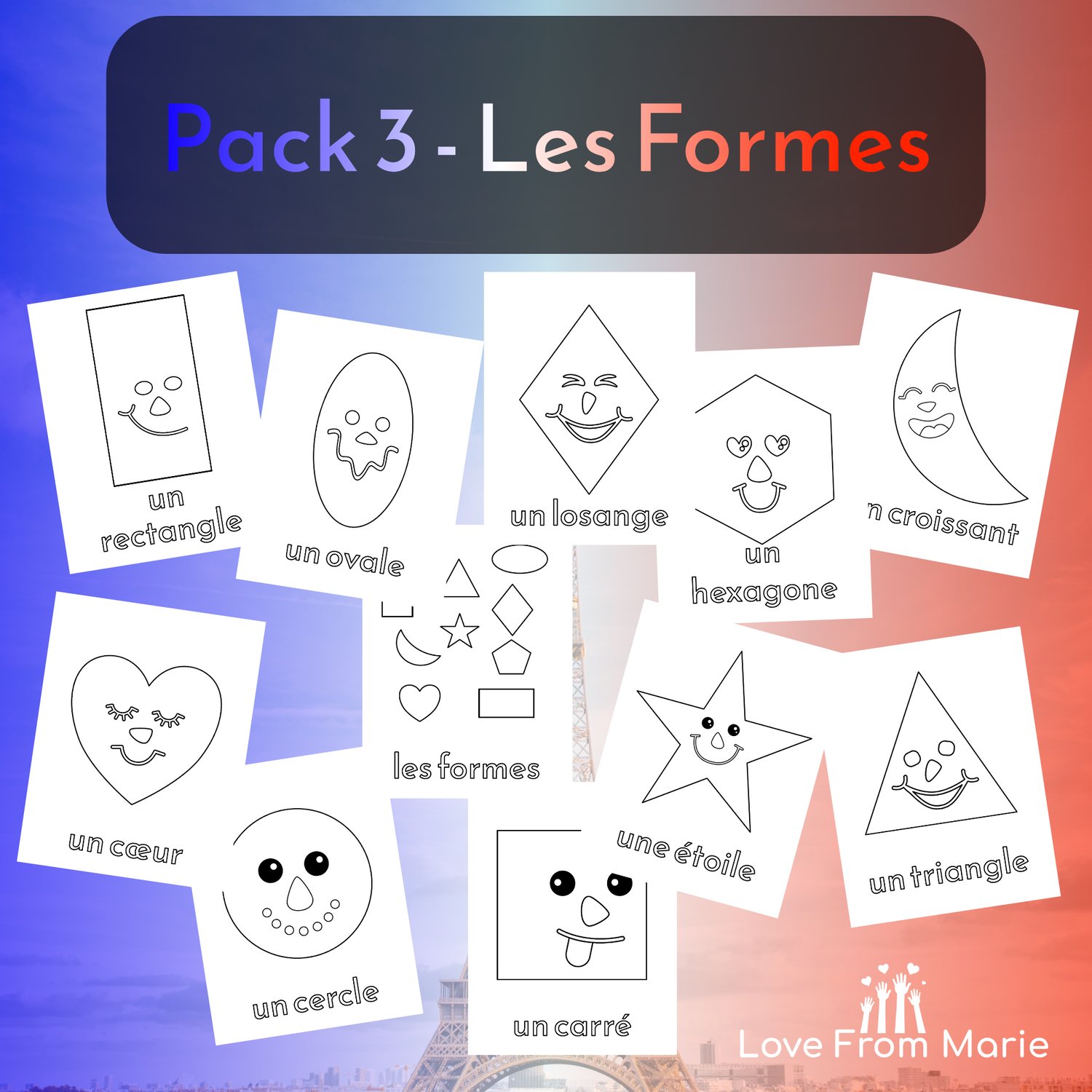 Help Your Child Learn French Through Coloring With Fun Coloring-In Books - 63 images
On Sale
$3.00
Help your child learn French through coloring with our fun coloring-in books
This set includes
4 books that are sure to get your children hooked on French!
And if you enjoy coloring-in activities, they are also great for adults who need to brush up on their skills.
These coloring-in books are a
great way to teach your child French.
They contain 4 different books with a total of
63 pages of illustrations
. Each illustration has the word in French.
Each book comes with French - English translations.
Perfect for elementary French learners. Images are great for ages 3/4 - 8.
WHAT YOU'LL GET:
A zip file with 4 coloring books & 4 French-English translations.
ABOUT THIS PRODUCT:
63 beautiful, high-quality coloring pages
Instant donwlaod
High-resolution images
Printable PDF format
Available in 2 sizes; 8.5 x 11 & A4
Translations
Unlimited prints (for personal & classroom use only)
Perfect for girls & boys
---
Pack 1: La Ferme - The Farm. 20 Pages.
In this collection, we are learning vocabulary about the farm! 🐓
Learning: 🐄🐖
La ferme - the farm
Le taureau - bull
Le coq - cock/rooster
La poule - hen
Le cochon - pig
La vache - cow
La souris - mouse
Le lama - llama
L'agneau - lamb
Le cheval - horse
La jument - mare
Le moulin - mill
La grange - barn
Le tracteur - tractor
L'agricultrice - female farmer
L'agricultreur - male farmer
Le poney - pony
Le veau - calf
Le caneton - duckling
Le tournesol - sunflower
Pack 2 - Les Animaux du Zoo - Zoo Animals. 20 Pages
In this collection, we are learning vocabulary about zoo animals! 🐼🦁
Learning: 🐺🐘 🐅
un chameau - a camel
un guépard - a cheetah
un éléphant - an elephant
une girafe - a giraffe
un hippopotame - a hippopotamus
un koala - a koala
un lion - a lion
un singe - a monkey
un panda - a panda
un tigre - a tiger
un zèbre - a zebra
un chauve-souris - a bat
un ours - a bear
un paresseux - a sloth
un castor - a beaver
un raton laveur - a racoon/raccoon
un loup - a wolf
un alligator - an aligator
un paon - a peacock
Pack 3 - Les Formes - Shapes. 11 Pages
In this collection, we are learning shapes! 🧡🟨
Learning: 🔷🟣
Les formed - shapes
Un carré - a square
Un cercle - a circle
Un cœur - a heart
Un croissant - a croissant
Un hexagone - a hexagon
Un losange - a diamond
Un ovale - an oval
Un rectangle - a retangle
Un triangle - a triangle
Une étoile - a star
Pack 4 - Les Oiseaux - The Birds 🐦 12 Pages
In this collection, we are learning the words "oiseau" and "oiseaux". (bird and birds) Along
with the numbers 1-10.
Learning:  🐦🦅
L'oiseau - the bird
Les oiseaux - the birds
Un oiseau - a bird
Deux oiseaux - two birds
Trois oiseaux - three birds
Quatre oiseaux - four birds
Cinq oiseaux - five birds
Six oiseaux - six birds
Sept oiseaux - seven birds
Huit oiseaux - eight birds
Neuf oiseaux - nine birds
Dix oiseaux - ten birds
---
JUST DOWNLOAD, PRINT AND GET STARTED
This item comes as a high-resolution PDF file that you can download straight after purchasing.
You can print as many copies as you want for personal & classroom use.

NOTE
This is a digital item.
No physical product or printed material will be shipped.
Following payment, you'll receive a download link where you can download the digital files for this product instantly.
No refunds as this is a digital product.
TERMS OF USE
Personal Use. You may print the files as many times as you like for your own personal & classroom use.
Reselling or sharing is not allowed.
All sales are final due to the nature of digital products.
Copyright © Love From Marie. Copyright does not transfer with sale.
Happy coloring-in!